I have been fan of Trailhead since I used it for first time to learn on how to build lightning components .Trailhead makes learning fun and enjoyable .You get to learn at your own pace at your own time and at your convenience .
Many of you would have heard salesforce launching new User Experience which is seamless experience of your salesforce data on any device size ,right from your apple watch to your apple macbook pro or air .
Migration is always not easy .Its cultural change .It will come with time and people will require some support and Training to get trained .
Trailhead is our friend that will guide us in right path as we transition from our aloha look and feel to this new exciting lightning experience .Whether you are Developer ,Architect ,Customer or Partner related to Salesforce ,Trailhead has content for everyone .
Lets Summarize the content that will make you feel confident and comfortable while you go through each of these new modules in the Trailhead
Admin Trail
For Admins Migration to lightning experience means they need to be familiar with below
How can they customize or change layouts ?

How can they configure objects and relationships?

How can they enable their users to this new experience ?

What should be the Roll out strategy while they migrate the users to new experience ?

Where can they configure actions and what are the differences with respect to old aloha UI ?
Lot to answer.If an admin goes through all the modules present in above Trailhead I am sure you will get to the meat of the content .
Developer Trail
With new Lightning ,Developers will need to worry about following
1)What will break in their existing code and wont work with lightning ?
2)How can they make their Visualforce code work with lightning ?
3)What is Salesforce Lightning Design System ?
4)How can they detect via code how to differentiate between aloha environment and lightning environment ?
5)If you are an ISV ,what factors you have to consider when you build your visualforce pages ?
6)What changes app exchange packages will need to get the Lightning Certified Sash?
All the answers to this has been embedded inside the Developer Trail for Lightning experience .
Sales Rep Training
Sales Rep Trail will enable your organization to train your sales reps
Asking Sales Rep to go through this Trail will help them use the system effectively .Your sales rep will learn below in detail
How to work with leads and opportunities with new user experience

Various tools that will help them to track their performance and help them sell effectively

New reports and dashboards and chatter feeds .
This is the first content for end users from Trailhead team and step definitely in right direction
If you are a new admin there is one more and you can start right from there
Trailhead URL
Also don't forget to share your progress on twitter and share your badge selfie as I do often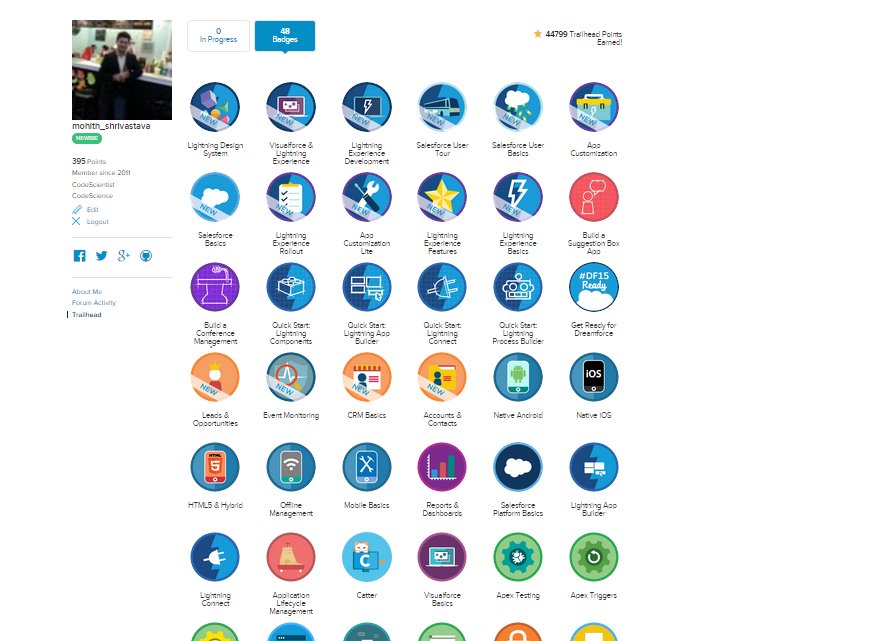 If you love projects ,there are few new projects as well for you
https://developer.salesforce.com/trailhead/projects