Last night I completed new modules and new project on Trailhead and I must admit Trailhead continues to impress me .Its been one of the best online training resource we have to get trained on force.com platform .
Lets talk about what will you learn once you complete these new modules and why it is worth to spend time on these
Boost your Apex Integration Skill set
Apex Integration Services
One of the key challenge for force.com developers who are new to the platform is they lack knowledge around art of possibility around Integration of force.cm platform with external system using apex services .One of the main cause has been lack of easy step to step guide so that they can follow and learn these techniques .
The new module Apex Integration Services is a great step forward .I was surprised how challenging these exercises are to crack and it makes sure you understand the concepts well .I strongly recommend cracking this module to gain expertise around integration via apex .
Take your ability to debug and write formulae in force.com to next level
Advanced Admin Trail
Advanced Formulas module is amazing and worth cracking it .It took me an hour being advanced and experienced dev so if you are new this may take more time .You will write some cool validations rules and some complex formulas .After this module i am sure you will be fearless when it comes to writing or debugging some complex formulas .Also note that this is part of new Trail Advanced Admin .
LEX Data Management
LEX Chatter Basics
Lightning experience is the future of salesforce .With new modules you will continue to understand how to leverage chatter in lightning experience and also understand how to import and export data via dataloader and import wizard provided in the set up menu .
Build an
awesome app
learning platform basics and also give yourself a chance to win
Astronomical Prizes
Battle Station App
This module helps you to learn platform basics and at the end you give yourself a chance to win some cool prizes .So hurry and get this done before 31st dec .The project link is below ,click and get started.The project will teach you how to create apps ,build objects and fields on force.com platform ,write business logic using process builder and workflows ,how to create reports and dashboards and how to use SF1 mobile app to expose the functionality for mobile devices.
Enjoy Trailhead and dont forget to post your selfie with badges completed on twitter .Also now you can add those badges to your linkedIn profile .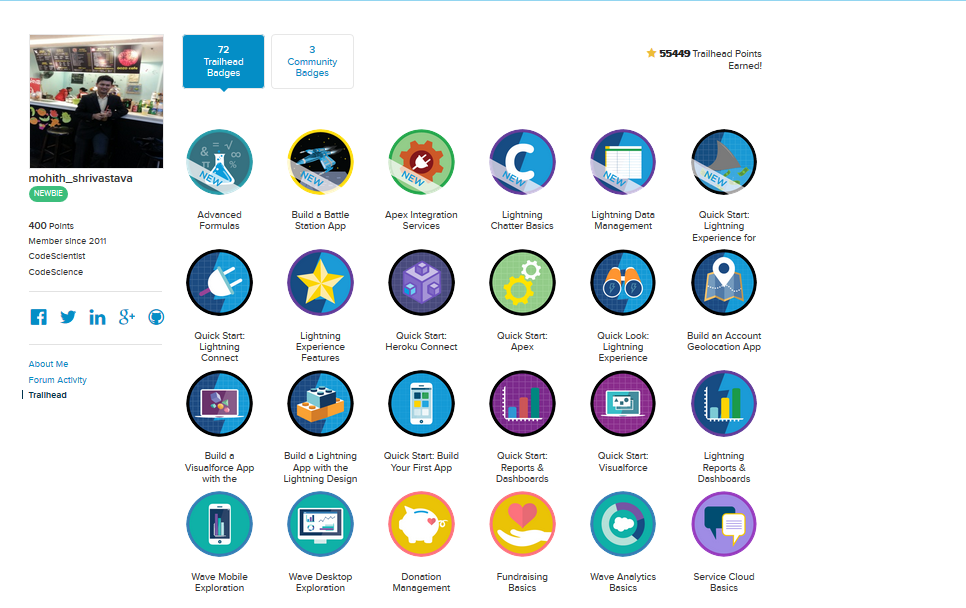 Trailhead Selfie